About Us
Mariachi Los Galleros de San Antonio is authenticity, excellence and unrivalled Mariachi entertainment. Founded in the cultural mecca that is the Alamo city, Mariachi Los Galleros was forged through respect for tradition and pride in their musical heritage. The group's founding members are manager Ismael Alatorre and Texas State School of Music lecturer, Miguel Guzman. The select musicians that comprise Mariachi Los Galleros, affirm more than 30 years experience as studio, television and live musicians, entertaining audiences throughout Texas, the US, Mexico and abroad.
Among Los Galleros' most distinguished collaborations is accompanying internationally renowned tenor Placido Domingo. Also notable is Los Galleros' performance in New York City's Jazz at the Lincoln Center. In 2007, Mariachi Los Galleros released their self-titled and independently produced CD. Forthcoming is their highly anticipated 2nd CD, "La Flor Que Mas Quiero" in late 2018. Both works display the driven rhythms of their armonia, resonant trumpets, reverberant violins and impassioned vocals that make up their genuine, authentic sound. Under the musical direction of Miguel Guzman, Los Galleros credit influences such as 3rd Generation Mariachi Vargas, Los Camperos de Nati Cano, Rigoberto Alfaro and Los Hermanos Calderon.
Withal their world-class experience, at their core Mariachi Los Galleros is musica del pueblo, bringing deep-rooted traditional music to life's most commemorated milestones. Authenticity, excellence and unrivalled Mariachi entertainment -Mariachi Los Galleros de San Antonio.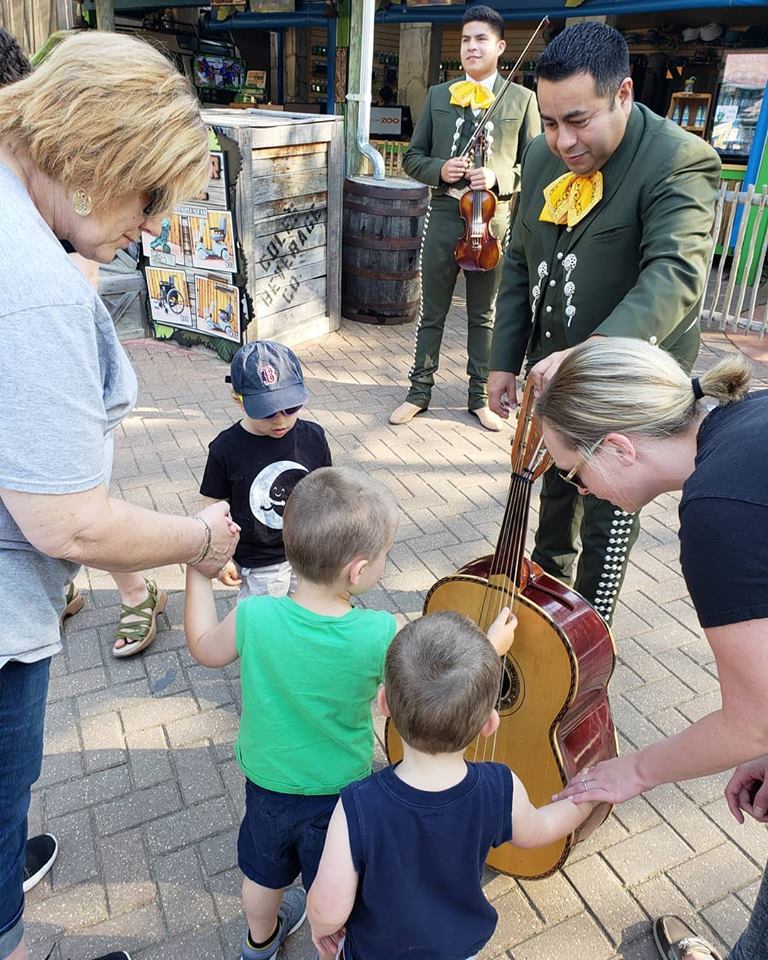 Musical Director Miguel Guzman Interviewed for University of Texas at Austin School of Journalism's
Voces Oral History Center
Miguel Guzman
In the Mariachi sphere, Miguel Guzman, is a renowned Mariachi musician and educator, with 34 years experience as a professional musician and 29 years as a Mariachi educator. Violin is Guzman's primary instrument but he is also fluent in vocals, guitarron, vihuela and guitar . Guzman's musical schooling has its origins in trumpet, under Dr. Joseph Bellamah and classical violin under Genaro Ybarra and Cleo Aufderhaar of the San Antonio Symphony. Guzman also studied voice and composition under Iren Liden and Alice Gomez of San Antonio College. Born and raised in the culturally vibrant city of San Antonio, Guzman's musical focus inevitably turned to Mariachi at the invitation of a high school band companion and Juan Ortiz of Campanas de America.
In his early career as a Mariachi musician, Guzman's training comprised of participating in mariachi conferences and workshops as a student. His aptitude and expertise however, has been realized teaching and playing alongside the very same Mariachi groups he learned from at these conferences. This includes the genre's top groups such as Mariachi Vargas de Tecalitlan, Nuevo Tecalitlan and Mariachi Los Camperos among others. Guzman is a repeat instructor and performer at conferences such as the Tucson International Mariachi conference; Albuquerque Mariachi Spectacular; Guadalajara's El Encuentro de Mariachi y Charreria; TMEA regional state clinics; New York Mariachi Conservatory and the Chicago Mariachi Project. This experience afforded Guzman the rare opportunity to train, teach and study under some of Mariachi's most notable and skilled musicians, namely Rigoberto Alfaro, Jesus Guzman, Nati Santiago and Nati Cano – a recipient of the National Endowment for the Arts.
As a public school Mariachi educator, Guzman taught pk -12 with San Antonio ISD for 26 years. He taught and directed community Mariachi with the Guadalupe Cultural Arts center. Guzman has also taught or directed Mariachi at OLLU, San Antonio College, Texas Tech, UTRGV and Texas State. He currently directs and teaches all Mariachi instruments at the Miguel Guzman Mariachi Conservatory. Regardless of age, skill, ability or socioeconomic makeup, Guzman always manages to develop award winning Mariachi programs, earning top honors and recognition through out the US.
As a musician, Guzman has distinctly accompanied Lucha Villa, Lola Beltran, Vicky Carr and Placido Domingo among many others. Guzman is also a studio musician recording on "Siempre Selena" –Selena; Grammy nominated "Llegaron los Camperos" –Mariachi Los Camperos; Grammy nominated "Que Paso" -Little Joe; and Grammy winner "Sigue El Taconazo" -Chente Barrere. Guzman has performed at the Hollywood Bowl, Tonight Show, Tejano Music Awards, Jazz at the Lincoln Center and Teatro Degollado in Guadalajara among other venues. His musical career has also taken him to stages in Kumamoto, Rome and Madrid.
Presently, Miguel Guzman is the co-founder and musical director of San Antonio's premiere Mariachi Los Galleros where he continues to cultivate and elevate Mariachi as a proper art form. Most currently, Guzman has been added as a lecturer in the School of Music at Texas State University.
Ismael Alatorre
At the core of Mariachi Los Galleros' armonía is Vihuela player, group manager, and co-founder, Ismael Alatorre. Reflecting on his twenty-eight years as a mariachi musician, Ismael says that his love for Mariachi grew through his family's support and awareness of his cultural heritage. His musical life began after enrolling for a middle school mariachi class in the San Antonio Independent School District. Within a brief period, his enthusiasm and tireless passion allowed him to become part of the S.A.I.S.D. All-District Mariachi. Forming part of this prestigious ensemble afforded access to multiple experiences that would influence the course of his life. There he began to attend international mariachi conferences and festivals both in the United States and Mexico, winning accolades and sharing the stage with such renowned mariachis as; Mariachi Los Camperos de Nati Cano, Mariachi Nuevo Tecalitlán, Mariachi Cobre, and Mariachi Vargas de Tecalitlán.
Immediately completing his education at Highlands High School, Ismael found himself with the desire to continue to impress future generations with the knowledge he gained from his experiences. Following in the footsteps of his mentor, Richard Ramírez, he took a position as a mariachi instructor at Rhodes and Harris Middle Schools as well as a consultant for the S.A.I.S.D. All-District Mariachi. When enrolled at the University of Texas-Pan American, Ismael was able to contribute by recording on Mariachi Aztlán's first full-length album, "Regalame Tu Cariño." While there Ismael nurtured a life-long mentor/mentee relationship with one of the world's greatest mariachi vihuelists, Victor "El Pato" Cardenas of Mariachi Vargas de Tecalitlán.
In 2006, Alatorre and business partner Miguel Guzman founded San Antonio's premier Mariachi Los Galleros With Mariachi Los Galleros, Alatorre has performed for former President Bush's private family events, on several occasions accompanied world-famous tenor Placido Domingo alongside the San Antonio Symphony. Alatorre and Los Galleros have appeared on the Today morning show and Fox and friends. Due to the national exposure as a member of Mariachi Los Galleros, Ismael is continually asked to serve as an instructor at the most recognized mariachi festivals and conferences that he once attended as a student. Including the New York Mariachi Conservatory, the Mariachi Vargas Extravaganza (San Antonio), FESTIBA at the University of Texas Rio Grande Valley, and the forthcoming University of Texas Mariachi Camp (Austin).
Currently, Ismael Alatorre is completing his ninth year as a police officer at the Alamo Colleges Police Department. He has also served as an officer at the Incarnate Word Police Department and Bexar County Sherriff's Office.
Ismael acknowledges that his success has come from the privilege of studying under some of the most prestigious figures within the international mariachi community. He believes that direct guidance and tutelage are vital in the transmission, understanding, and conservation of mariachi music. Wherein Ismael has served as a crucial link in the generational diffusion of this musical art, mentoring and inspiring countless youth in San Antonio and the greater Texas area.
Gabriel Alatorre
On trumpet and vocals, Mariachi Los Galleros is privileged to employ 22-year veteran, Gabriel Alatorre.
Gabriel began his trumpet education in band, but was eventually drawn to Mariachi music. He ascribes this to the strong cultural, familial and social influence of this genre.
Alatorre began playing professionally since age 16, paying his dues as a troubadour musician but ultimately working with established groups in the San Antonio and Austin Mariachi scene. His Mariachi experience includes studio, television and live acts. Alatorre has also been a recurring instructor at the Mariachi Extravanganza for 6 years, teaching under the direction of Mariachi Vargas. Also notable is that Mr. Alatorre is a Texas certified teacher with a Bachelors and Masters degree in Science.
Gabriel's most momentous Mariachi experiences include performing in Spain, Morocco and accompanying Alberto Angel "El Cuervo" and Aida Cuevas.
Gustavo Solis
Composing part of Mariachi Los Galleros rhythm section is guitarist and vocalist Gustavo Solis.
Gustavo proudly boasts more than 25 years honing his craft. At his mother's behest, Solis began studying Mariachi music in 7th. grade in San Antonio. Solis, however, recounts that his love of Mariachi music began the summer before high school. That is when he had the distinct privilege of first studying with members of world renowned Mariachi Vargas de Tecalitlan. It was a "life changing" experience that Solis cherishes and credits as a catalyst toward his passion for Mariachi music. Since then Gustavo has performed throughout Texas and the US, adding his vocal and guitar skills as a live and recording musician in many venues.
Solis' most memorable performances have been at the Hollywood Bowl, the Astrodome opening up for Selena and taking part in a Mariachi European tour.
Arturo Pasalagua
Mariachi Los Galleros' violinist and vocalist Arturo Pasalagua, originates from a succession of Mariachi musicians from Mexico city.
In a family where all his brothers are musicians, he attributes his original Mariachi apprenticeship to his grandfather and his uncle.
Pasalagua's Mariachi career spans more that 33 years, during which he has worked and collaborated with some of the genre's most recognized pioneers. While violin and vocals are his primary focus, Arturo is also adept at Vihuela and Guitarron. Pasalagua's Mariachi distinctions include working with Jesus Rodriguez de Hijar of Mariachi America, Juan Pinzon formerly of Mariachi Vargas, Jose Hernandez of Sol de Mexico, Mariachi Cobre, 11.years at Disney Epcot and touring with Rocio Durcal from 1999 to 2000.
Throughout his three decade long Mariachi circuit, Pasalagua has worked as a clinician, TV and studio musician, and has performed with symphonies.
Noel Gamez
The Guitarron is an intrinsic element of an authentic Mariachi ensemble, which makes Noel Gamez an integral member of Mariachi Los Galleros.
His Mariachi education did not begin on the Guitarron, however. Gamez started on violin in 6 th grade, but after a year, took up the Guitarron and has amassed over 25 years experience as a mariachi musician. Gamez credits his grandfather Chavel Cavazos, South Texas Conjunto celebrity, with inspiring him to pursue a career in music. Gamez also plays the guitar and the Vihuela.
Among Noel Gamez's accomplishments is touring with Manuel Vargas, formerly of Mariachi Vargas, accompanying Pablo Montero through out the US. Another feature in Noel's Mariachi experience is touring the Caribbean island of Puerto Rico.
Throughout his Mariachi journey, Gamez has been an accomplished performer, instructor and studio professional. Although a musician for over 2 decades, Gamez continues to sharpen his
technique and sound and aspires to record a Christian Mariachi CD in the near future.
Miguel J. Guzman
On Violin and vocals, Mariachi Los Galleros enlists Miguel J. Guzman, who initiated his violin studies at age 7 with his father.
Mariachi music surrounded him since birth; it was the world in which he was raised. So true to form, Guzman has continued his Mariachi, violin and vocal instruction through to college and now as a member of Los Galleros. Miguel is also skillful at Guitarron and guitar.
Among his most notable instructors are his father Miguel Guzman, Edwin Origel of Nuevo Tecalitlan, Steeven Sandoval of Mariachi Vargas and Jesus Guzman of Los Camperos.
Guzman joined Galleros in 2013 at age 17 where career highlights include accompanying Placido Domingo and appearing on the Today morning show in New York City. His desire is to help usher Mariachi music to larger mainstream audiences while preserving its authenticity and integrity.
Patricio Molina
University of Texas student Patricio Molina comprises part of Mariachi Los Galleros' violins and vocals.
Molina is a proud product of what has become highly recognized, award winning Mariachi programs in the Rio Grande Valley Texas. He undertook Mariachi violin instruction from 5 th grade throughout high school and continues his music education at the University of Texas at Austin.
Molina credits members of Grammy nominated Mariachi Los Arrieros del Valle for his foundational education in Mariachi music. Mariachi Sol de Mexico and Mariachi Cobre are the source for inspiring Patricio to pursue performing Mariachi music at higher levels. He has garnered experience traveling throughout South Texas, performing with many Mariachi groups and co-founding his own.
High points in Molina's musical trajectory include participating in the 24 th Annual Beijing International Tourism Festival and getting selected for the Master Class at Albuquerque's 2018 Mariachi Spectacular.
Antonio Guzman
HThe youngest member of Mariachi Los Galleros is violinist and vocalist, Antonio Guzman. Son to Galleros' musical director, Antonio began violin at age 7 at the fine arts academy where his father Miguel Guzman taught.
When still in 3rd. grade Antonio joined the award winning middle school Mariachi. Raised by musicians, Guzman grew up listening to diverse genres of music and was taught the fundamentals of voice and violin very early on.
Antonio joined Mariachi Los Galleros in 2013 at age 13 and has been playing violin for 12 years. Guzman credits many acclaimed instructors for his music tutelage including his father Miguel Guzman, Mariachi Los Camperos' director Jesus Guzman, Tlen huicani Ivan Velasco and Edwin Origel Mendez "La Voz."
Among Antonio's most celebrated Mariachi experiences is singing at the Denver Stock Show and Rodeo as an invited soloist and assisting at the Texas Tech Mariachi Camp 2018 under the direction of Jesus Guzman.
Armando Jasso
Armando started playing cornet in his local Middle School band. He fell in love with Mariachi music when he attended his first Mariachi Vargas Concert and experienced the sound and energy of the genre. Armando has continued his mariachi development through high school and currently with a local award-winning community college ensemble. Armando also participated in the UIL solo and ensemble and received the outstanding soloist award at the Texas competition.  
Armando's greatest influences are his teachers and his companions who share the same passion for music. Although Jasso's primarily performs with Mariachi ensembles, he also performs with jazz, band and orchestra ensembles in San Antonio. His goals are to become a music teacher and one day join one of the top ensembles in the United States. 
Most memorable for Jasso was the opportunity to travel to the Albuquerque mariachi conference and opening the San Antonio Mariachi Vargas concert in 2018.
Mario Gutierrez
Mario is one of the newest members to Mariachi Los Galleros. He is a very talented violinist and vocalist from McAllen, Texas. 
He began his mariachi career at the age of 12 at his local Rio Grande Valley middle school. Although mariachi was the elective he chose for school, his music education started years before that. His first inspiration was his Grandfather which was a local norteño musician. Watching his grandfather play bajo sexto and accordion helped Gutierrez make musical connections between norteño and mariachi. Those connections helped him adapt concepts and quickly develop fluency with various mariachi instruments. Mario began his professional career playing with some of the Rio Grande Valley's elite groups. He was also a member of his local university's top performing ensemble.
Some of his most memorable performances were accompanying Vikki Carr, Ramon Ayala and Aida Cuevas. He is also becoming a sought after clinician and has worked with several student groups throughout Texas.